Rakuten card introduced WinActor. Did they get a future trend at RPA?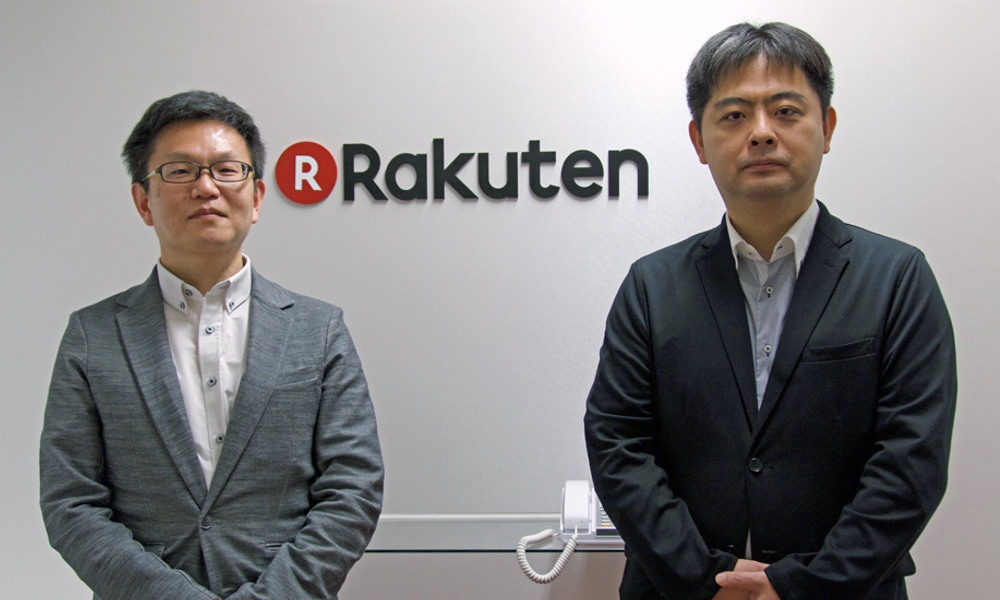 Rakuten group which performs various business mainly on Rakuten market of net shopping mall. Rakuten cards are the core of financial services among them. I interviewed the person in charge of the system operation department of Rakuten card about the introduced RPA (robotic process automation), WinActor.
It is Mr. Toshihiko Akama of service operation group like Mr. Morita Muneki who is manager of Rakuten Card System Operation Department, Service Operation Group who met me.
(From the left, Mr. Toshihiko Akama Service Operation Group, System Operation Division Rakuten Card Co., Mr. Noriaki Morita, Service Operation Group Manager, System Operation Department Rakuten Card Co., Ltd.)
In the financial services industry, automation of work by RPA has advanced considerably. Although the processing of enormous data is systemized, the PC work by all means is inevitably increased, and business automation is an indispensable effort during manpower shortage and working way reform.
Even for the Rakuten card at the forefront of the financial services, automation of work by RPA was an urgent task.
Reason why we decided WinActor by automating work by RPA
Both names maintain and manage the service that is running in the Rakuten card, especially the middleware and applications are responsible for stable operation.
The card payment system is the one that can not stop at all during the production run. It extracts logs from the running system and says that there are exceptional data processing and analysis work.
Morita:"There are work by hand operation to maintain the service, but there are about 200 types of irregular tasks."
It seems that NTT Data 's WinActor was considering introduction as to whether it could manage compression manually or not, because work was irregular and various kinds of problems were severe in the department.
Morita:"We had knowledge of RPA with respect to Robotics.When we chose WinActor as a result of comparative examination, the reason was RPA which can be started quickly.We started with client PC, there was no need to construct a server I felt that WinActor was an advantage. "
Rakuten card handling your money even though you can start quickly. He said that he made plans to introduce it very carefully.
Morita:"The basic idea of POC (concept proof) against WinActor was to find out what work is suitable for the work, asking as many people as possible to touch WinActor and verifying with many applications, In 2 months, out of about 200 kinds of hand operations, PC operation was the focus and we picked 12 kinds of work that do not directly update customer data etc. "
Verify WinActor's ability
As a result of demonstrating the operation of WinActor, it is said that there is spreadsheet software such as Excel as one application suitable for business automation.
Morita:"To put it concretely, the task of posting from file A to B. One task is easy and simple. However, it takes a considerable amount of time when the work is done several hundred times, and WinActor acts on behalf of it By doing so, it also contributed to considerable work reduction for staff involved. "
Easy manual operation occurring in any company. If that work gets piled up, it will rebound as a huge cost both temporally and manpower.
Morita:"Even though we extracted PC work that was easy to adapt to RPA, we were able to achieve about 75% reduction as a result of WinActor's verification."
They are more than satisfied with WinActor which drastically reduced their work hours and the number of workers who needed to deal with routine operations.
Notes that Rakuten felt during RPA introduction
Rakuten card that realized work automation with WinActor. They got a lot of know-how as guidelines for the introduction of RPA.
Morita:"Although there are not many people who can use WinActor, it may be better to limit the person who creates the scenario, although there are manuals in all of the operations, can you robotize the work? , I felt that I needed a leader who accumulated business experience and know-how. "
As WinActor can create a scenario even without knowledge of the program, the scenario is sometimes confused. It seems that the responsible person of the RPA felt it necessary in order not to make the scenario where the creator or purpose is unknown, so-called "Nara Robo".
Morita:"In addition, we can use WinActor for other work by aggregating that know-how and systematizing.When it becomes important in that case, it is standardization of work which makes robot make.Transition to automation of business In the stage, it is important to eliminate individual know-how etc. in human work, so it turned out that productivity got higher as a result. "
In addition, Mr. Akama also talked about such experiences.
Akama:"We also reviewed the work we've done through WinActor's scenario creation, and we have not noticed improvement suggestions for various tasks without work automation efforts."
Benefits of RPA (WinActor) noticed by introduction
・The range of business automation can be freely set, easy to start small.
・We support a lot of everyday applications such as Word, Excel, Web etc.
・Because there is a person responsible for managing the scenario, it can be used efficiently.
・In the preparation stage of RPA introduction you can review the past work manual.
Rakuten card has clearly separated the tasks performed by humans and the work performed by robots, and has been promoting task automation. Of course, in order to make the risk of information leaks zero, final confirmation by human eyes is carried out, role is divided in each specialty field, and working quality is raised more.
WinActor predicts the future trend
WinActor, which has been proven useful in the system operations department, is said to have entered a new stage. It says that it is possible to take a glimpse of future trends by using WinActor, not to mention the result that the goal is fixed.
Morita:"Until now, we have analyzed it by deciding the target log, but if it is WinActor it is possible to analyze the data for all kinds of logs without limitation.
If you increase the number of target logs, you can know precise performance resources and expect to be able to function as a future prediction tool. "
Finally, I heard about the overall review of business automation at WinActor.
Morita:"In PC work, it is inevitable that the target application, such as Word or Excel, freezes, but WinActor has confirmed stable operation except that it is a solution for improving work efficiency without making a mistake Well, I am very satisfied. "
Also, we received their feedback on WinActor.
Morita:"It may not be possible without WinActor about the work demonstrated in the verification.In addition to that, we are very excited about upgrading image matching and functions."
WinActor's demonstration experiment conducted at the system operation department of Rakuten card for the purpose of business automation. The result is that productivity is improved by job automation and it seems that we can acquire future trends as well. For enterprises considered to introduce RPA, it is a very useful example of introduction.
Company Profile
| | |
| --- | --- |
| Company name (trade name) | Rakuten Card Co., Ltd. |
| Company information | Established in 2001. A company that provides credit cards, card loans, credit guarantee business etc. in the Rakuten group's financial services business. In addition to net shopping on Rakuten Ichiba, Rakuten points are accumulated even in consumption at a real store, and widely spread to consumers in general. |
| Website | https://www.rakuten-card.co.jp/ |