Yahoo Japan's future work style with WinActor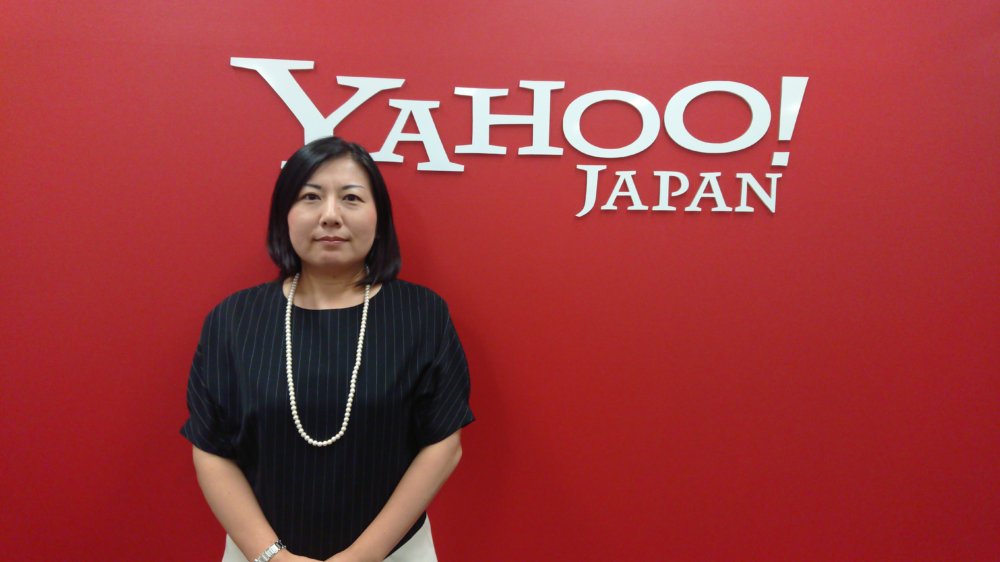 Yahoo is a leading global internet businesses. Their key business is online advertisement.
In this interview, we talked with Ms. Matsubayashi who is Quality Operation Manager of Operation Headquarters, Media Company Marketing Solutions Headquarters at Yahoo Kitakyusyu.
Firstly, Ms. Matsubayashi told us what made them decide to introduce WinActor.
Matsubayashi Traditional business automation requires development by engineers and it's sometimes considered as a lower priority depending on the scale of the target operation. For actively proceeding business automation, we needed to find RPA tools which do not require engineering skills. We participated in a seminar held by NTT DATA Kyusyu in order to carry out market research on AI and found WinActor there. We started using an evaluation license as we found WinActor might satisfy our requirements.
There are two major streams for business automation.
One is "Top-down" for RPA introduction, and the other is "Bottom-up" in which literally end-users in office raise voice for improving their routine operations.
Yahoo Kitakyusyu center carries out "Bottom-UP" RPA introduction. For improving their productivity, they decided to install WinActor.
Online Advertisement: Challenges for improving operations
We asked Ms. Matsubayashi about their tasks and challenges they are facing.
Ms. Matsubayashi Our team is in charge of delivering online advertisements and ensuring high quality. For example, order receiving, contract works, quality check, and setting delivery which are all required for handling online advertisements.
The volume of our operations was constantly increasing and I cannot be so sure about the balance between workload and human resources will be maintained. We were striving for improving productivity, but honestly speaking, I began to sense the limitations in terms of human resources.
Ms. Matsubayashi was always trying to face the challenges not by collecting labor, but rather by improving productivity.
Matsubayashi We've also thought about BPO (business process outsourcing) overseas, but eventually decided to stick with the current team structure and started optimizing our growth and productivity with RPA.
RPA Introduction and how we selected WinActor
Matsubayashi The scale of each operation is relatively small that makes its automation priority lower. When we were struggling with automation using VBA, we met WinActor which does not require engineer-like skills.
"So what made you select WinActor?"
Matsubayashi We rated WinActor high on satisfaction because WinActor allowed users to start from a single device. Also, we thought their extensive support, training programs, and a lower introduction cost would bring us introduction effect in a short span of time. 
Major reasons for selecting WinActor
・Sever development is not required and it is independently operable among several departments
・Full support services and training programs
・UI (User Interface) is in Japanese and user-friendly for general users
Ms. Matsubayashi also received various feedbacks from users who actually use WinActor.
Matsubayashi You are working for Yahoo doesn't mean that everyone can write a computer program. Although they are not familiar with programming jargon, they found it easy to create a scenario as they make a flowchart.
They also pointed out that Scenarios created by WinActor were transparent and easy to understand because WinActor was just reproducing what they did.
Human-Robot (RPA) Collaboration
"Actions against RPA-specific challenges are definitely needed", she said.
Matsubayashi Human intervention is required at times so there was a case in which data acquisition must be done via Excel.
Another case is that although the outcome is the same, scenarios vary among different users who created.
For dealing with such challenges, we opened a space for sharing scenarios so that users can view and edit other users' scenarios.
Also Yahoo has very strict regulations on security.
Matsubayashi Under the circumstance that there was no previous RPA case in company, it was our responsibility to make users understand the purpose of installing Winactor while aligning the existing policies.
Also, we've limited who can create scenario to reduce the risk of tampering and identified corrective actions one by one to deal with unexpected terminations or abnormal operations.
This is not just the case for Yahoo, every company has different situations and rules. We reaffirmed the strength of WinActor, that can flexibly deal with various environments.
Received HQ Award!
We asked Ms. Matsubayashi about introduction effect of WinActor.
Matsubayashi Irregular operations are not avoidable. For instance, service request from customers or processing refund has been manually handled by the staff. After introducing WinActor, our operations except for those requiring human intervention have been all automated. As a result, we achieve reduction of operating hours by 70% that allowed us to focus on the other new operations.
According to Ms. Matsubayashi, repetitive operations such as issuing ID and sending/suspending report are being handled by WinActor.
Matsubayashi Our department received the HQ award for the successful impact of automation. Being motivated by this award, we are aiming to expand our RPA activity in the whole HQ within a year and half with 50% reduction of work hours. Currently, RPA is a hot topic among employees and we are sometimes asked to tell them about RPA.
Ms. Matsubayashi told us that the hours saved by automation will be used for human resource cultivation targeting new operations, IoT, or AI related.
Yahoo's Prospect for RPA
"The internet/smartphone generation will be working members of society soon. RPA would not be a new tool for them", said Ms. Matsubayashi.
At the end of interview, we asked her about the future of RPA in Yahoo.
Matsubayashi For the coming couple of years, all the employees who deal with operations will be required to use RPA. In order to prepare for the coming new era, we've started developing a framework for human resource cultivation with cooperation of NTT DATA. Our major goal is to standardize RPA utilization and shift human resources to operations which require our creativity.
Yahoo is one of the leading companies in the internet industry. In their key business, internet advertisement has been constantly evolving. The age of RPA which Ms. Matsubayashi is foreseeing might not be so far away.
Company Profile
Trade Name

Yahoo Japan Corporation

About the company

Established on January 31, 1996. Their business operations are internet advertisement, e-commerce business, and membership services.

"Yahoo! JAPAN" is providing more than 100 services for the largest users in Japan.

Website

https://about.yahoo.co.jp/