Pasona, a comprehensive human resources service company, dispatches a robot (RPA)?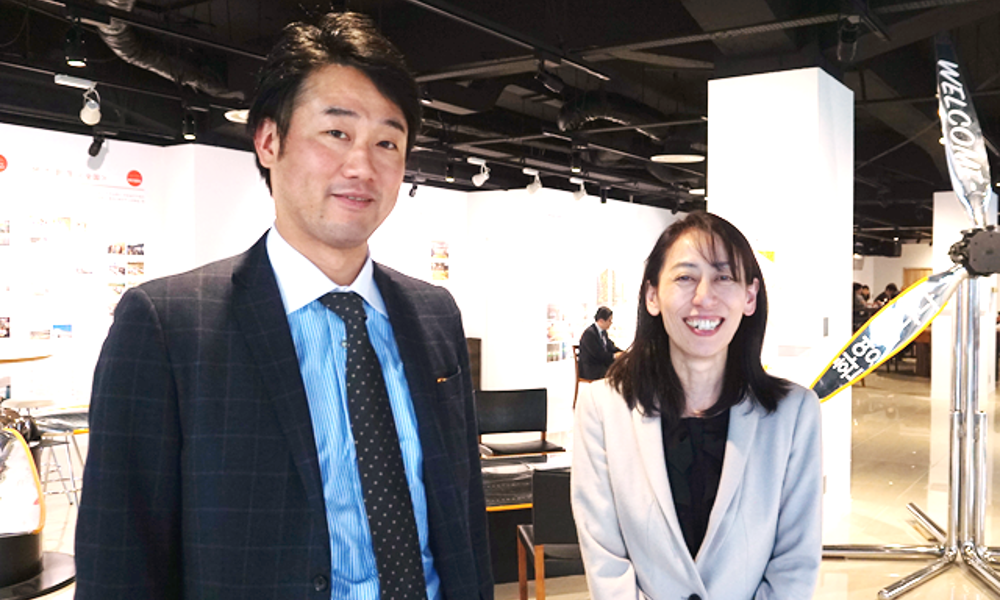 Pasona Inc., a leading company in integrated human resource services. We talked to Pasona who runs at the cutting edge of the workplace about the current situation of RPA (robotic process automation) occurring at the site of workmanship and work efficiency improvement.
Pasona Inc., a leading company in integrated human resource services. We talked to Pasona who runs at the cutting edge of the workplace about the current situation of RPA (robotic process automation) occurring at the site of workmanship and work efficiency improvement.
"Are you dispatching robots? Are you serious?!"
Mr. Yabumoto received such comment from his client.
Who we interviewed were Ms. Yuko Miyanaga who is General Manager of ROBOT Business Unit promoting RPA (automation of business by robot) at Pasona Inc. and Mr. Yoshinori Yabumoto, Director of East Japan Solution Business Division.
First, we heard about Pasona's RPA efforts.
Ms. Miyanaga "In Pasona, in addition to the independent work system (temporary staffing service), we offer a variety of solutions to solve customers' problems through business outsourcing (BPO) and ICT. We are training and dispatching human resources who can create robots using RPA tools to businesses that promote reform and work way. "
While Pasona uses WinActor as a user, they are also a distributor who is promoting RPA introduction to their clients.
What is WinActor for Pasona who has extensive knowledge about RPA
We asked why they decided to introduce WinActor.
Mr. Yabumoto "The advantages of WinActor is that is all made in Japan and displays functions in Japanese. Also, I felt that UI (user interface) is easy to understand.
Initially, we were considering several products for RPA, which will be customers' solution. At that time it was an unusual client-type RPA, customers were also interested in and we received many inquiries from them, so we chose WinActor.
Even if RPA is introduced, it is meaningless unless you can use it, but I think that WinActor is user-friendly and RPA easy to use in the whole workplace. "
The advantages of WinActor
・All made in Japan RPA, and Japanese language is available.
・RPA with High versatility for Windows such as WEB and Excel
・Low installation cost, easy to expand with small start
・No programming knowledge is required and it can operate even with one PC
and More
Mr. Yabumoto Also, not only the client type installed on the desktop PC, but also the software type robot that centrally manages and controls on the server is important. Many companies wish to introduce RPA in corporations that require a central management. WinDirector will meet such expectations.
It keeps operating 24 hours without hindering normal work, so it is a very reliable presence. By combining WinActor's client type and server type, any company can optimize efficient work. "
Introduce WinActor from bottom-up request for efficiency improvement
We asked specific examples of introducing WinActor.
Mr. Yabumoto "Many of the businesses introduced in the enterprise are accounting work such as clearing transportation expenses, and labor management work such as working hours etc. In addition to that, it is also used for sales management and data creation of factory occupancy rate."
As an interesting case, there was a company's work that requires a huge amount of data processing work in the middle of the month. Temporary staff had to do the data processing work while doing normal work, and the number of workers and the number of work manpower also dramatically increased. ​ ​ ​ ​ ​ ​ ​ ​ ​ ​ ​ ​ ​ ​
And it was necessary to increase only 3 days for that work, and they were struggling with monthly shift management. Currently, we are handling WinActor for data processing work. In this way, WinActor was introduced according to the demand issued in the bottom up from the work site. "
Ms. Miyanaga also shared the story about WinActor benefit with us.
Ms. Miyanaga "Employees and staff feel strong pressure against work such as completing the work within the period and checking to make sure there are no errors in large amounts of data"
Although they are required for perfect work, mistakes are likely to occur due to intermittent work only once or twice a month"
Those are human errors, so-called careless mistakes, WinActor is useful to avoid it. Especially their mental release feelings must be great. "
They also shared the story that WinActor is useful for security measures.
Ms. Miyanaga "It is possible to reduce the risk of information leakage by reducing the number of people involved in creating my number related lists and delegating a huge amount of work to WinActor.We would like to limit the number of people involved as much as possible because it is important private information, WinActor is attracting attention because it can handle personal information such as My Number safely and surely. "
Let's back to the comment from their client, "are you also dispatching robots?"
Mr. Yabumoto "We are mainly engaged in temporary staffing and outsourcing and we feel that it will be a solution for improving operational efficiency by proposing RPA represented by WinActor along with that personnel."
Meanwhile, they also shared us a voice they received from a manager of a company introducing WinActor.
Ms. Miyanaga "There is an example that WinActor was able to take care of heavy workload which was bothering the person who was in a managerial position. The person had to deal with analyzing works handling big data with diversified conditions such as seasonal variation. It was too heavy work to ask our temporary staff to deal with. They succeeded in having WinActor handle such analytical work. It was highly appreciated that they could focus on the actual appearance of the business and respond promptly to management decisions."
Examples of RPA introduction by WinActor
・Business volume with a large gap between the busy season and the quiet period
・Operations dealing with sensitive information such as personal information
・Operations that require mass data input and processing
・Important but simple operation
and More
Example of improving work efficiency with WinActor
We asked about the numerical value of working time reduction by using WinActor.*1
For example, in the case of a major manufacturer, it took 28 hours (monthly average) to prepare expense reports. Work time after WinActor introduction was shortened by 6.5 hours, and about 23% of work reduction was achieved.
Besides, a major IT service company, which took 15 hours (monthly average) to issue invoice, was able to complete the work in just three hours after introducing WinActor, shortening by 12 hours, achiving 80% of improving business efficiency.
In the case of a large company that had been handling the confirmation work of commuting transportation expenses by many dispatching staff, it took about one minute per case, totaling 583 hours in total. After the introduction of WinActor, the work time was shortened to 126 hours and the work efficiency was improved by 78%.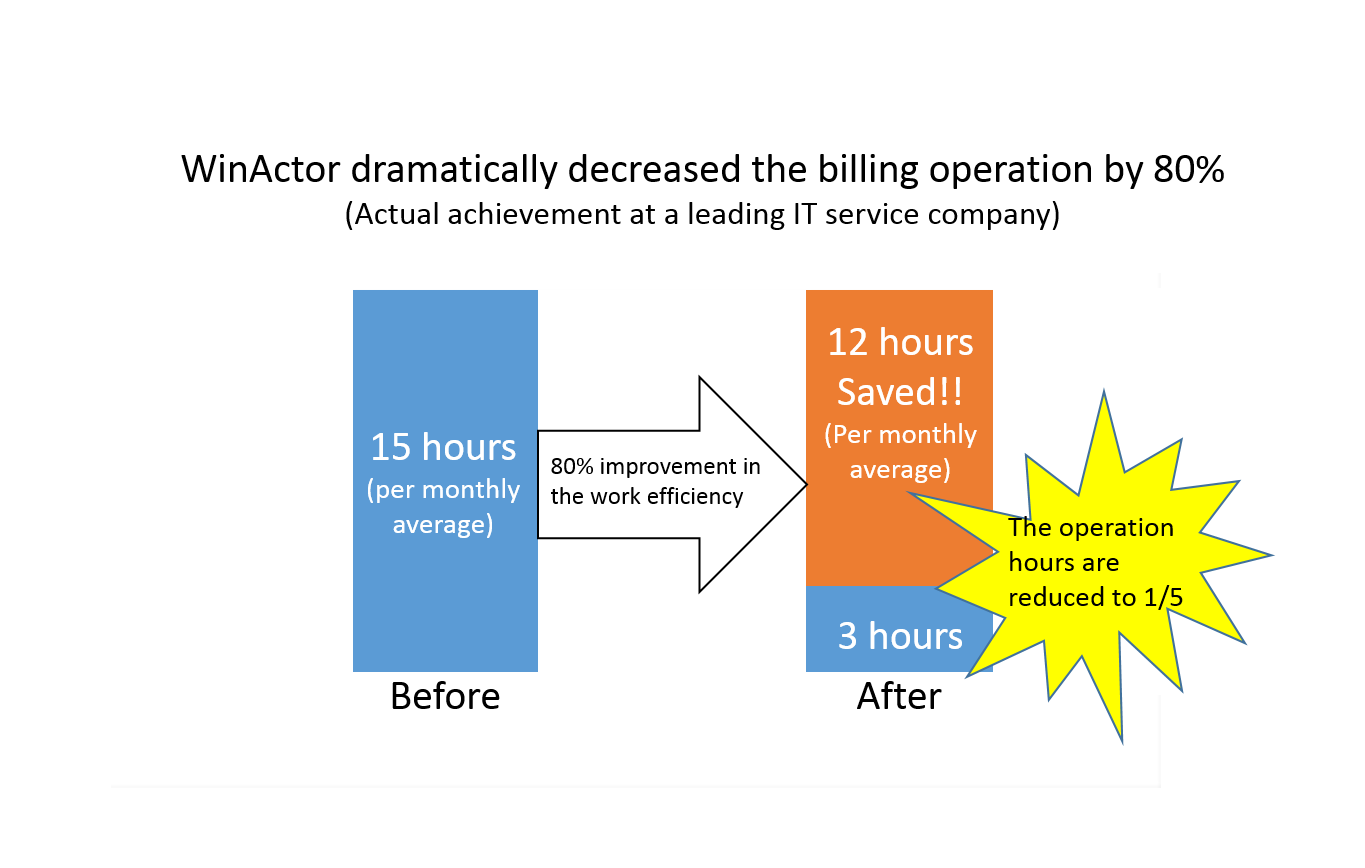 *1Regarding the work reduction time and work improvement rate, those were provided by Pasona's client companies. Please note that the introduction effects may vary and this article does not guarantee the same results.
There are situations where many companies are pleased with the fact that it is possible to shorten the work time by making WinActor working on a personal computer perform the work to be done, and it is possible to prepare a report without mistakes.
RPA challenges and solutions of WinActor
It sounds like RPA (WinActor) does not have a bad side, but is there any issues or challenges for introducing WinActor?
Ms. Miyanaga "There are a lot of companies who assume it would become much easier when everything is automated by RPA, but it is not necessarily true that applying a robot for full automation is all good. We are also proposing the hybrid operation, leaving the place where human intervention is required. Also, solve the issues which have been existing already before the RPA introduction by reviewing the existing business flow for further accelerating the work efficiency.
Mr. Yabumoto "For the introduction and deployment of RPA tools such as WinActor, it is necessary to support the construction of specialized organization and staff assignment to design and maintain the RPA scenario etc. We develop personnel capable of WinActor scenario design and maintenance, We are proud that we have the best RPA utilization proposal, knowing the business contents of various companies.
In addition, RPA such as WinActor may generate errors at the initial stage of introduction. It is necessary to instruct the RPA tool how to recover work which errors are likely to occur beforehand and to recover when problems occur.
I think that it is important to increase the number of talented people who understand RPA and have skills to create a scenario which improves the working efficiency with WinActor. We are having "RPA Expert Training Program" study sessions for dispatched staff, mainly in Tokyo area. There are so many applicants that the seats are filled up very quickly."
WinActor's future vision
Ms. Miyanaga No matter which region you are in, there are the demands for improving work efficiency. Especially in the rural areas, the decline in the workforce population is remarkable. In those areas, task sharing and improving work efficiency by RPA is an urgent task. In addition to that, for women who have been away from work for being housewives, working mothers, or those whose working hours are limited, it is necessary to improve working environment. WinActor also supports them to comfortably come back to the office. "
WinActor's future activities
· Improve work efficiency in workplace which is facing personnel shortage.
· The suberb is the key of RPA introduction, to deal with the decreasing working population.
· RPA based operation plan such as SE
and More
Do you have any advice to companies who are introducing WinActor?
Ms. Miyanaga "I think that it is better to treat WinActor as a newly hired employee instead of a robot. WinActor will become a reliable new staff member who precisely processes given tasks without delay."
What is RPA's future vision from the standpoint of temporary help agency?
Mr. Yabumoto "A new workplace or a hybrid environment where human beings and robots coexist. I think WinActor which automates operations and enhances work efficiency will even more attract attention as the needs for eliminating overtime work and work-life balance are futher increased"
The story they shared with us this time was all valuable to further accelerate breakthrough innovation of WinActor as they deeply understand advantages and disadvantages of RPA through their using WinActor at the site of temporary staff dispatch.
Editor's note
After the interview, they showed us one of the areas which they are actively focusing on for human resource development.​ ​
A store with a remarkable red roof standing near the entrance of JOB HUB SQUARE is the "Art Village craft shop". This store was established by Pasona Heartful as the self-support facility for disabled person with the purpose of creating a new working place. There are mouth-watering handmade sweets and elaborate artcraft being on display in the store.
Pasona Heartful is challenging to create a place where both disabled and non-disabled people participate in social activities together as drawing disabled person's ability and personal quality and support them to socially become independent. Their challenge means that we accept being disabled as one of the individual characters and find their quality and ability from every angles to cultivate it as professional resources.
On the 13th floor of JOB HUB SQUARE, there is an urban-type farm called "Otemachi Farm" which was opened for cultivating human resource in "dairy" and "green tourism" sectors which seem to become a key to activate local industries. A decrease in workforce in those sectors is a serious problem which Japan is currently facing. This facility plays a role as a wake-up call highlighting the importance of activating local industries.​ ​
Can you believe there is a farm in the office building in Otemachi? People come here to meet goat, pig, cow, alpaca, flamingo, and owl. For many visitors, this farm is loved as a comforting environment in the urgan area. (*Application is required in advance for visiting the farm. Please see more details Otemachi Farmへ)
(Self-support facility for disabled people, "Art Village craft shop" and "Otemachi Farm" where you can meet various farm animals, even flamingo and owl!)​ ​
Company Profile
Company name (trade name)

Pasona Inc.

Company information

Founded in 1976, it is a comprehensive human resources service company that handles recruitment, reemployment, outsourcing, etc., mainly for temporary staffing services. Pasona is are also investing in human resource development and living support for working people.

Pasona's​ ​RPA Services

■Identify target operations


Carry out research and analysis to identify the operations to be within the scope of RPA.

■Trial Services


①60-day license (number unlimited)




②RPA study session


③5 days (inconsecutive) design support ■RPA tool sale


WinActor License

■RPA Expert Dispatch


Dispatch personnel who can conduct scenario creation/modification after RPA introduction.

Website

 https://www.pasona.co.jp/