Tokyo Gas × WinActor = source of business reform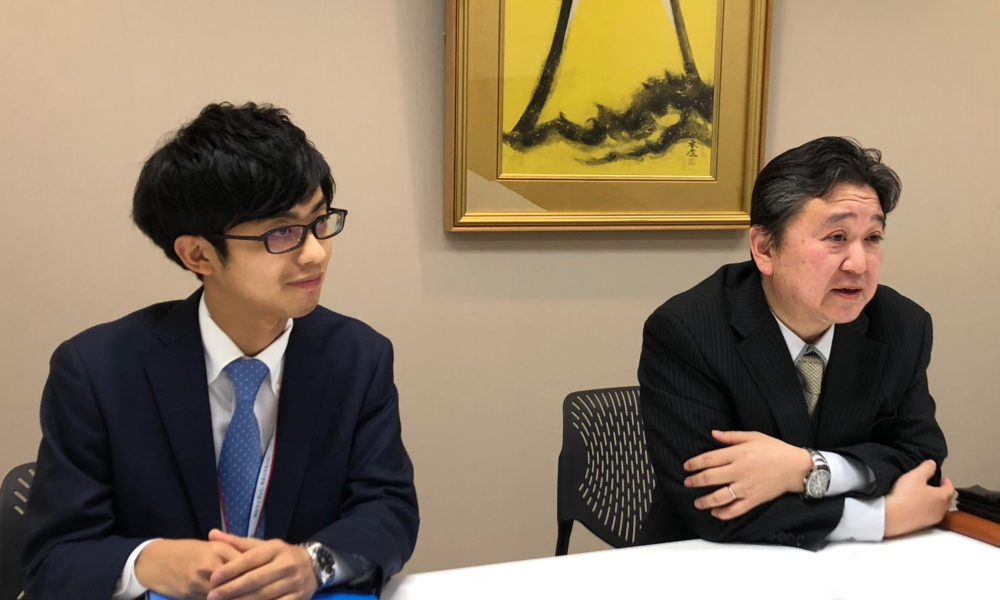 "Liberalization of energy and gas supply" led to fierce competition among companies in Energy industry. In order to enhance the competitiveness, Tokyo Gas is aiming to improve the business efficiency by utilizing IT.
In this interview, we talked with Mr. Okubo (right) and Mr. Kawaguchi (left) who are in charge of IT strategies at Energy Solution Headquarters.
Q) What is your responsibility at work?
Mr. Okubo​ ​I'm in charge of supervising IT promotion, Planning, Operation, and Maintenance at Energy Solution headquarters for enterprise sales team.
Q) Why did you decide to implement RPA tool?
Mr. Okubo​ ​The primary reason was "Liberalization of Energy Services". One company on one area was standard before, but the liberalization of energy services allowed multiple companies to compete within the same area, causing fierce competition among companies. It was the highest importance for us to enhance more competitive power and we developed the 5-year mid-term plan. The goal of IT strategy in the plan is to improve business efficiency utilizing IT. Amidst such situation, we were seeking for the best solution for us.​ ​​ ​
Q) Why did you focus on RPA tool?
Mr. Okubo​ ​Compared to the conventional system development, I felt that RPA would bring us the result we want within a short period of time.​ ​
Q) Did you conduct product evaluation before introducing RPA?
Mr. Okubo​ ​We did theoretical evaluation on several products.
Q) What made you select "WinActor"?
Mr. Okubo​ ​There are three reasons why we selected WinActor.
1. The unit price is reasonable and small start-up is available.​ ​
2. Scenario creation and visualization of business can be done simultaneously.
3. Multi Language Support (Japanese/English)
Q) How many staff do you have in the division where RPA has been introduced?
Mr. Okubo​ There are approximately 900 team members in the target division. In the front, middle, and back office of our enterprise sales team has been introducing RPA. ​
Q) Would you give us some of your case studies?
Mr. Kawaguchi:​ ​I will give you two of our major cases. ​
The first one is the operation in which we register new contracts of high voltage power in the internal system. (See the figure 1) there are several internal systems for data entry. The staff who is in charge of back office operations had to manually deal with it. ​ ​
For WinActor introduction, we've clarified the roles among humans and robots and​ ​appropriately divided the operations instead of applying full-automation, as the application form is paper based.
Specifically, the staff in charge loads the contract details in an Excel file, and then transfer the information to the internal system. This hybrid (humans-robots) operation allowed us to achieve about 70% of automation of the total operations.​ ​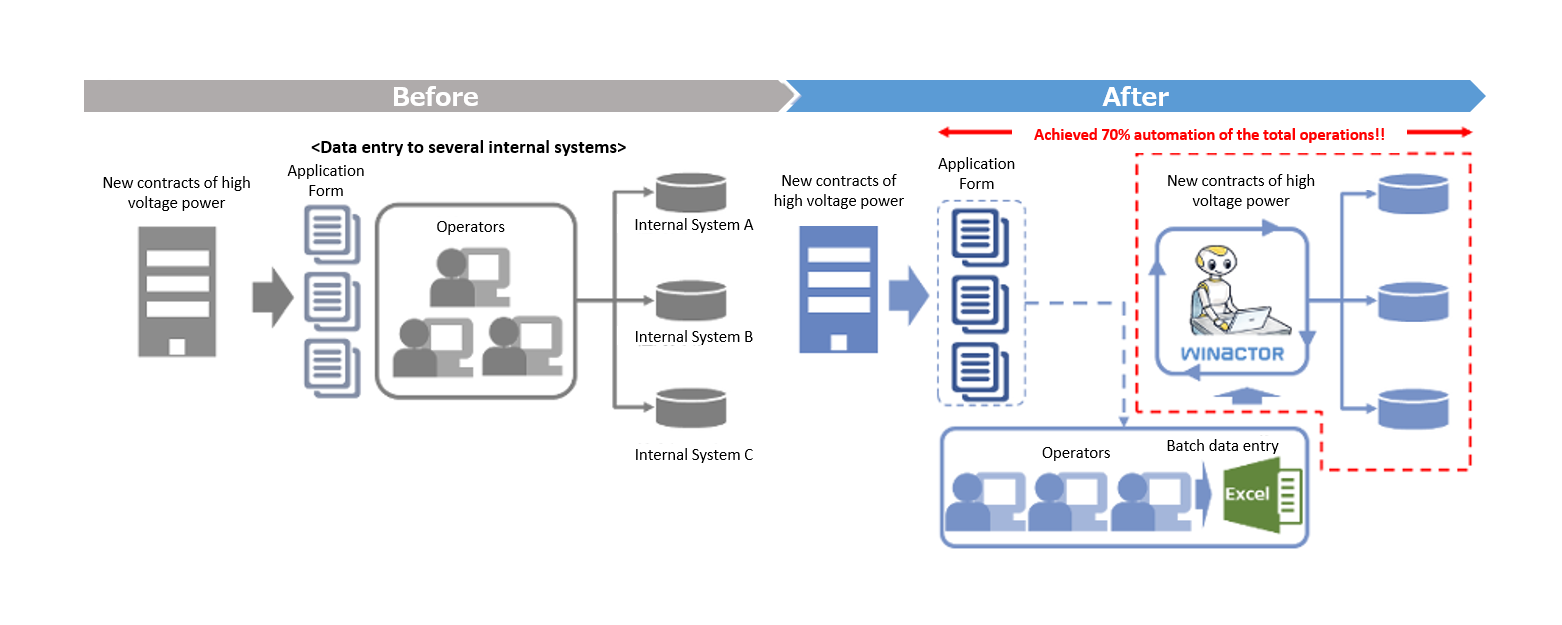 【Figure 1 (WinActor introduction Before/After image) for new contract application of high voltage power】
The second case is that the operation in which creating detailed report to be provided to customers. (Please see Figure 2)
Our report creation requires data acquisition from several internal systems. The staff in charge was acquiring data from the systems while they were doing the other operations. Several systems are involved, so it was also a challenge that it would be difficult to achieve cost effectiveness.​ ​
For WinActor introduction, we've identified and defined the information to be required for creating the detailed report. We created a scenario in which Winactor acquires information from the internal systems based on the definition and then transcripts it to the format.
By doing so, the calculation shows that we can achieve a 270-hour reduction in our back-office operations.​ ​We strongly felt that WinActor was the best solution especially where it seems cost effectiveness would not be achievable by system automation.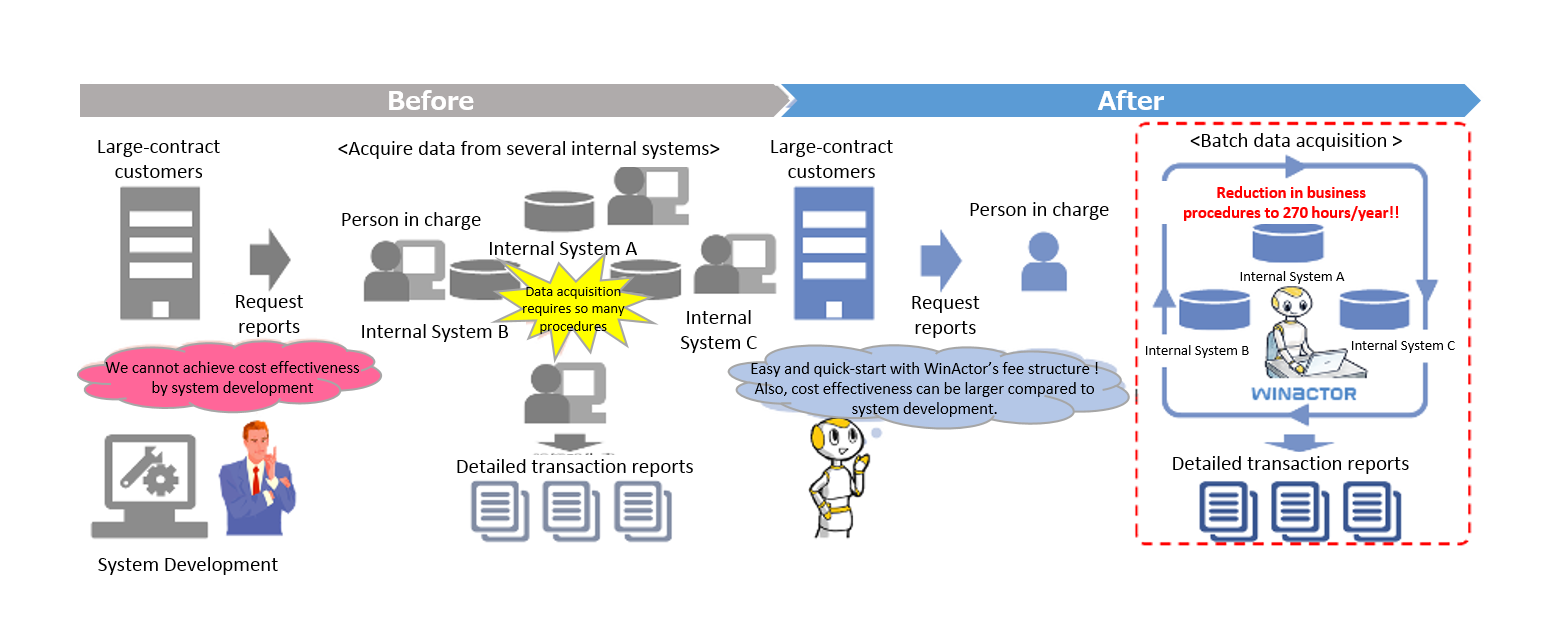 【Figure2 (WinActor introduction Before/After image) for creating detailed reports】
Q) How do your staff rate WinActor as a RPA tool?
Mr. Kawaguchi:​ ​The reputation is fairly good. An operation team is providing us so many target operations (approx. 150 items) for RPA, so we are dealing with them by prioritizing those items.
Q) Any advice for successful RPA introduction?
Mr. Okubo​ ​I believe an organization level promotion is the key.​ ​
Q) Do you have a promotion structure?
Mr. Okubo​ ​Our department (IT Supervisory dept.) has a team which leads RPA promotion. Mr. Kawaguchi supervises and leads the promotion activities.
Q) Please let us know about your governance control rule (to prevent stray robot

*1

) if any.
Mr. Okubo​ ​Currently, scenarios are centrally managed by IT Supervisory department. This department also sets regulation on procedure from scenario creation to starting operations. They actually create scenarios on a request from operating department by following the rule book (specifications/scenario creation standards/security standards). The operation starts after the department who actually uses the scenario approves the contents.
*1Stray robot・・・Robots which were once owned by someone or some project but no one knows its original owner or original purpose and currently being abandoned.
Q) How do you conduct horizontal deployment?
Mr. Kawaguchi:​ ​We provide educational activities using internal media as well as cooperating with IT headquarters which supervises company-wide IT activities.​ ​
Q) Do you have new functions which you want to add to WinActor?
Mr. Okubo​ ​When WinActor is running, we cannot use the device for other operations, that means we need to install exclusive terminals for WinActor. Also, we need to take care of security issues (screen lock during its operation, etc.). In considering those above, we are planning to install the server version. We feel that a mediator which manages and visualizes the running status and schedule is also required.*2
*2Those functions are available with WinDirector. Please refer to​ ​about WinDirectorfor more details.
Q) Please let us know your future plan.
Mr. Okubo​ ​It is necessary that the back-office operations would be increased by adding services that will boost the operation cost. Our goal is to reduce the operation cost by utilizing WinActor for the existing operations.
Q) Please fill in the blank if there would be a such formula, "Tokyo Gas" x "WinActor" = 【    】
Mr. Okubo​ ​I would say, "the source of business innovation".
(March 31, 2018)
Company Profile
Company name (trade name)

Tokyo Gas Co., Ltd.

Head Office

1-5-20 Kaigan, Minato-ku, Tokyo 105-8527, Japan

Established

October 1, 1885

Capital

141.8 billion yen (As of March 31, 2017)

Lines of business

1. Production, supply and sale of City gas




2. Production, supply and sale of electricity




3. Overseas upstream business, midstream and downstream business




4. Engineering solution business, liquid gas business, LNG sales, gas appliances, gas installation work, Construction, etc.




​ ​​ ​​ ​




5. Leasing and management of land and buildings, etc.




6. Information processing service, shipping business, credit/lease financial services, etc.

Number of employees (Nonconsolidated basis, excluding part time workers)

8,219 (As of March 31, 2017)




​ ​

Number of employees (Consolidated basis, excluding part time workers)

16,823 (As of March 31, 2017)




​ ​​ ​

Sales




(Consolidated basis)

(Consolidated basis)

1,587 billion yen (FY2016)
July, 2017
The company profile has been cited from​ ​Tokyo Gas Co., Ltd.